Cozy and warm yellow bedroom ideas can bring energy, confidence and optimism to a space. It can be used anywhere in the house but is particularly effective in north-facing rooms that lack light. Read on to learn more about using this versatile shade for your bedroom ideas.
Yellow bedroom ideas – how to use this shade of sunshine
Although the popularity of the color has been revived lately, the hue itself is nothing new – the color yellow is one of the oldest shades in history. Take a look at our selection of yellow bedroom ideas for more inspiration.
1. Choose yellow for a north-facing room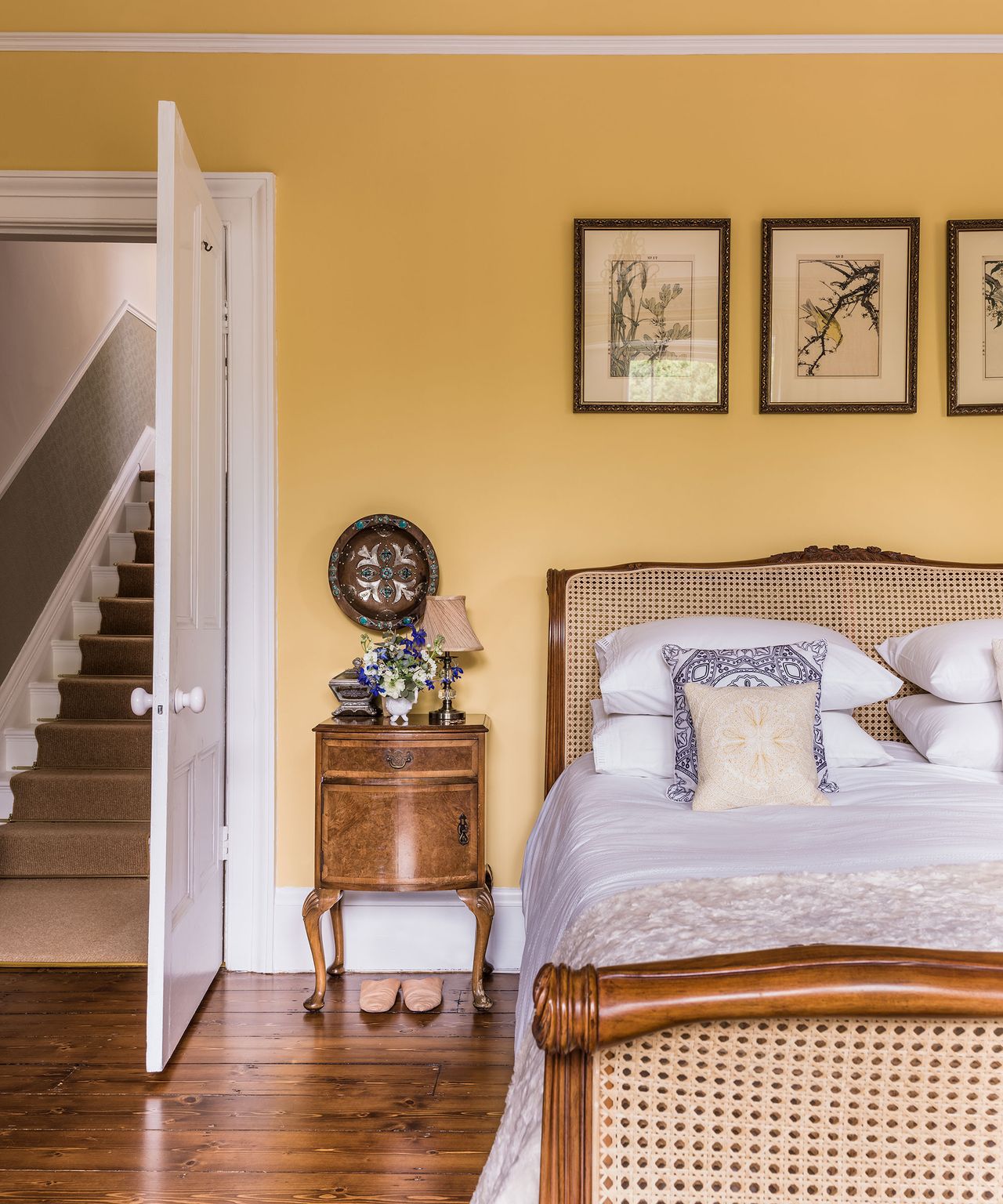 Yellow bedroom ideas cover a wide range of shades – from barely there buttermilk to mustard and lemon, not to mention ochre, gold, canary, saffron and chartreuse.
"It can be used to add warmth to a room that seems 'cold', pair it with rattan furniture and wooden floors, the hues will work together perfectly to create a cozy and relaxing bedroom," says Melanie Griffiths, Managing Editor, Period Living.
2. Choose key architectural details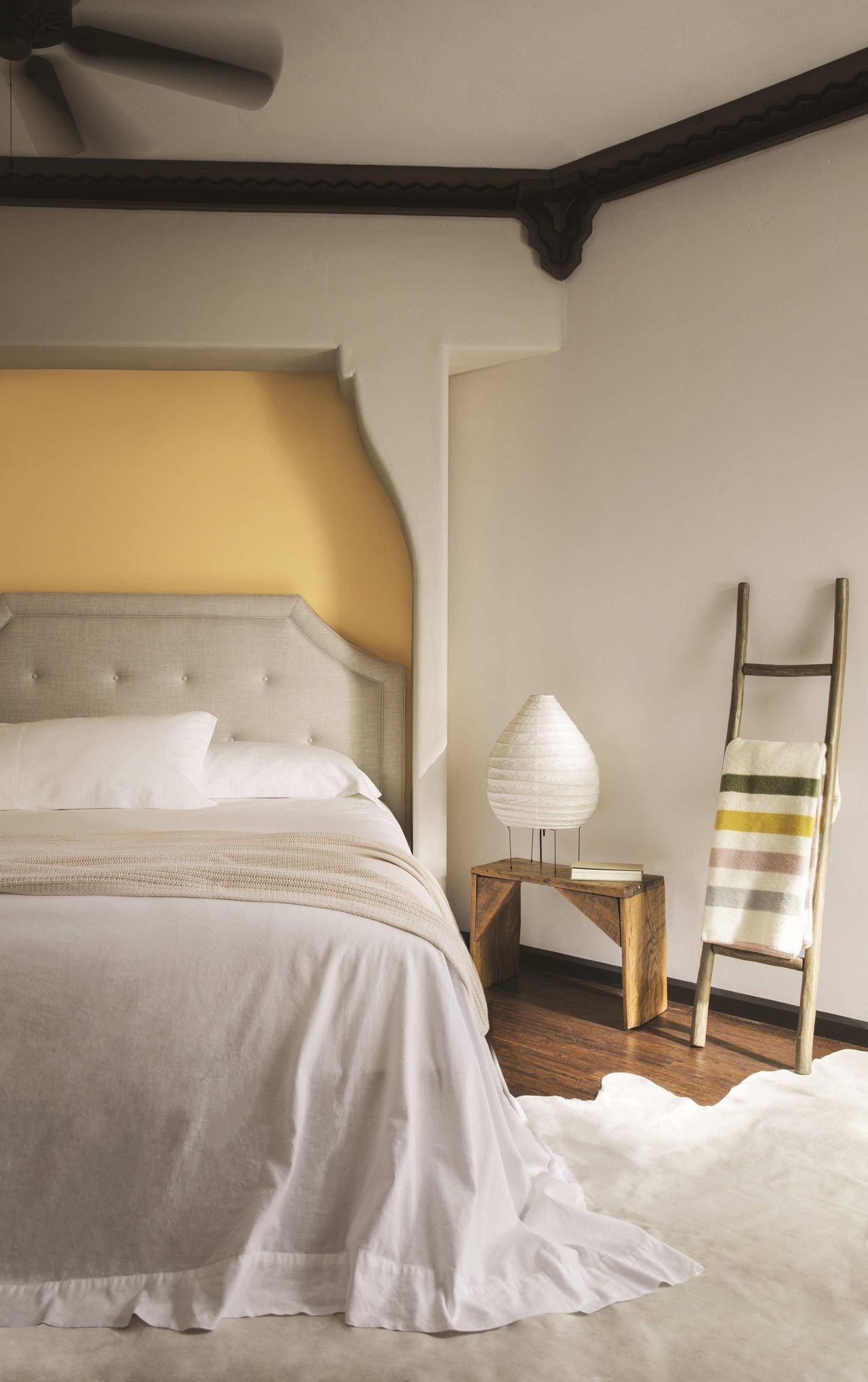 "To add interest to a room and change the rhythm of your look, you can use additional shades of yellow to highlight elements," says Helen Shaw, director at Benjamin Moore. "Using one or two accents can enhance the mood of a room. For example, you can add color to emphasize the lines, furniture, or architecture of a room. Using bright colors sparingly is a super effective way to grab attention and create a line.'
3. Create a sun-drenched room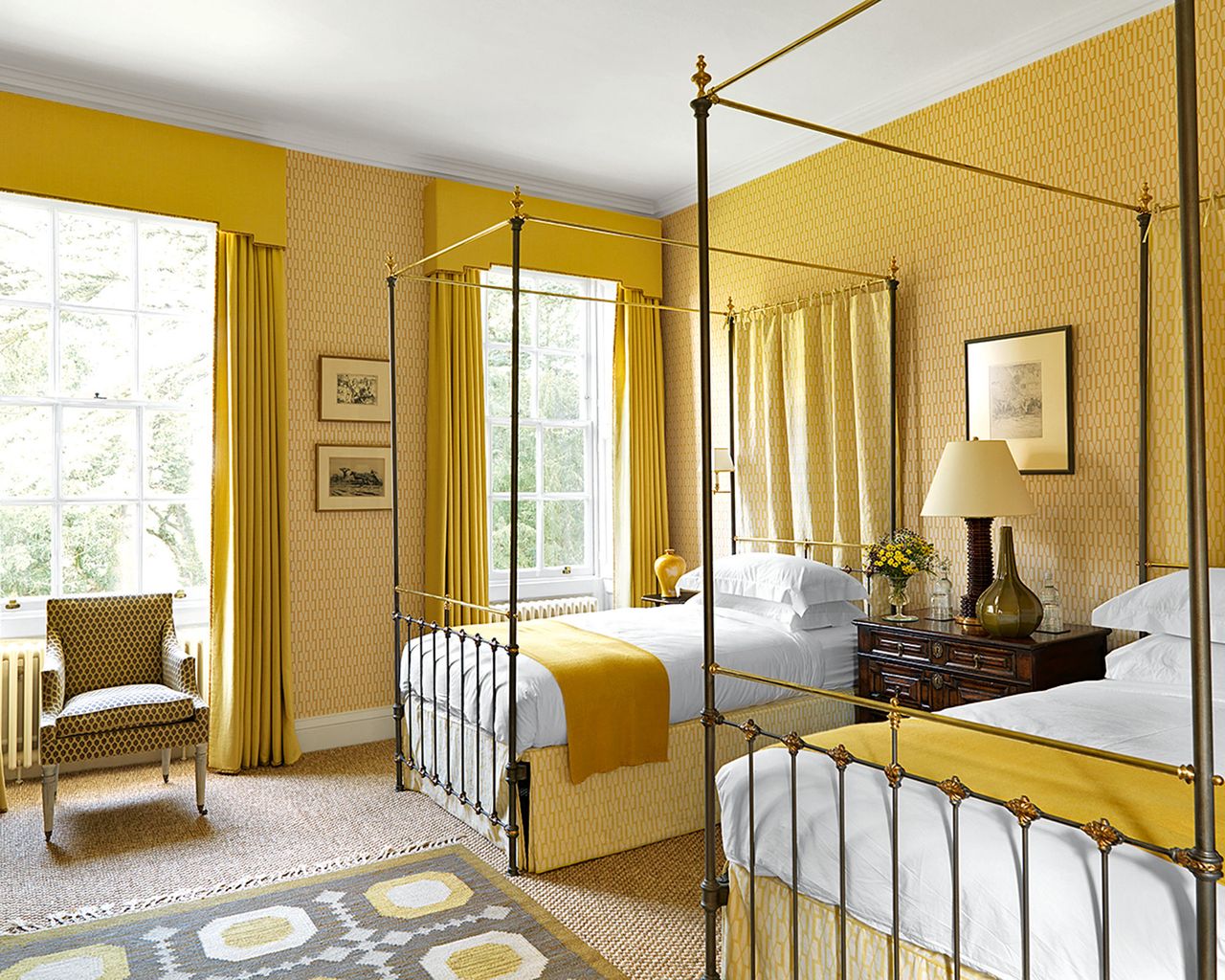 "Current trends show a real shift towards more vibrant colors with a clean finish," says Sue Kim, senior colorist at Valspar. "When choosing colorful bedroom ideas, remember to look beyond the walls – consider the ceiling, baseboards, window frames and moldings and how they can be incorporated into the scheme."
This dark bedroom was transformed by interior designer Veere Grenney with an injection of yellow, balanced by crisp white linens and rush mats.
4. Evoke a sense of calm in a traditional bedroom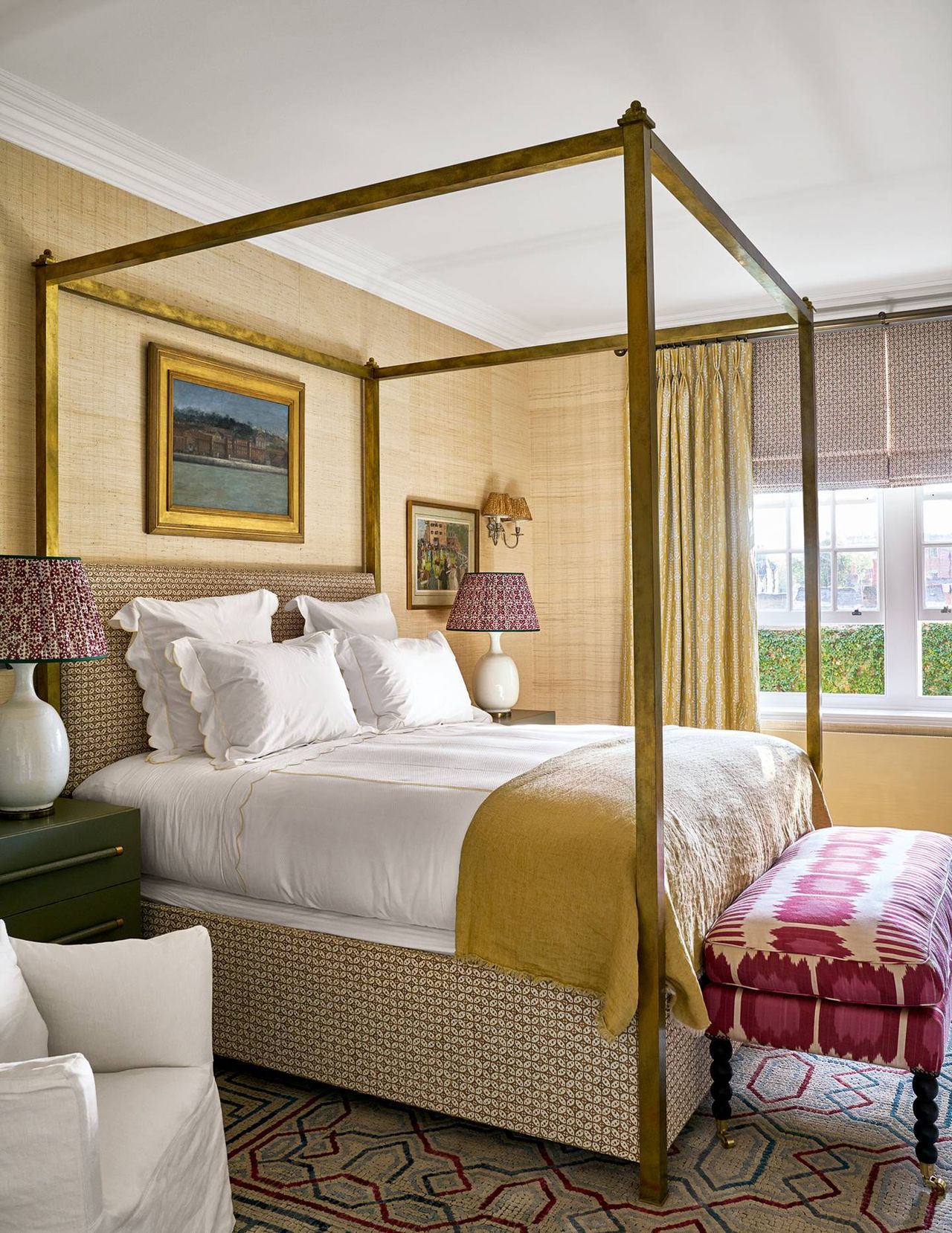 "Textured wallcoverings are a perfect way to introduce both color and texture into a room," says Andrea Childs, Managing Editor, Country Homes & Interiors. 'This buttermilk hue is soothing and looks fabulous with the vintage gold frame and canopy bed. Add a rosy pink side with crisp white linens and you have a charming yellow bedroom to relax in.
5. Pair yellow and green for a grown-up version of nature's palette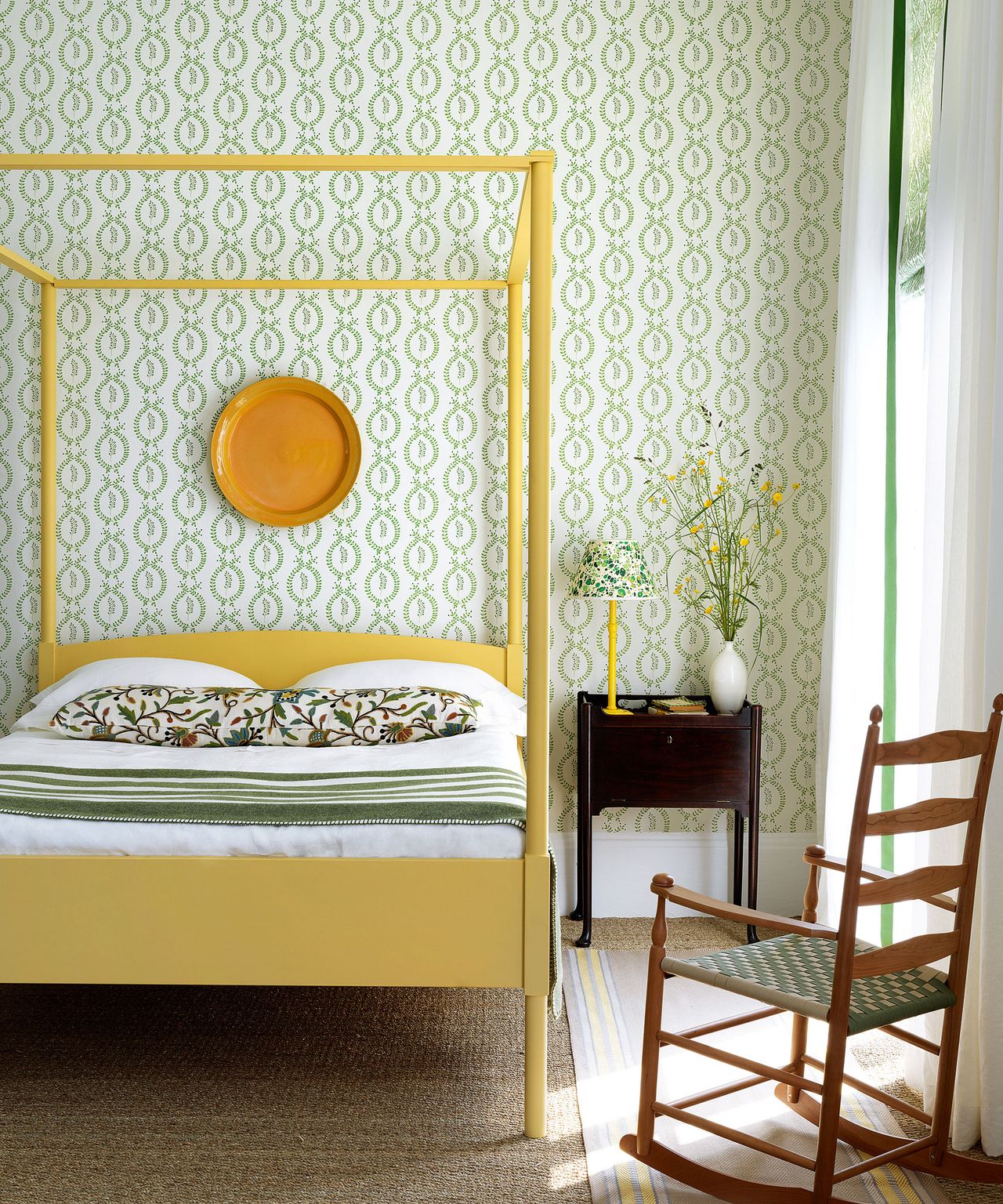 Yellow is the perfect color to pair with contrasting and complementary shades, and it can work in both contemporary and traditional bedroom ideas. Unsurprisingly, yellow and green bedroom ideas are some of the sunniest spaces around – perfect for warming up cool, north or east facing bedrooms.
Looking for yellow living room ideas that aren't too yellow? You can create an inviting yellow and green bedroom with florals, earthy natural textures and pleasing patterns in this season's warmest color palettes, without the yellow being overwhelming.
6. Pull out a color from your wallpaper to use elsewhere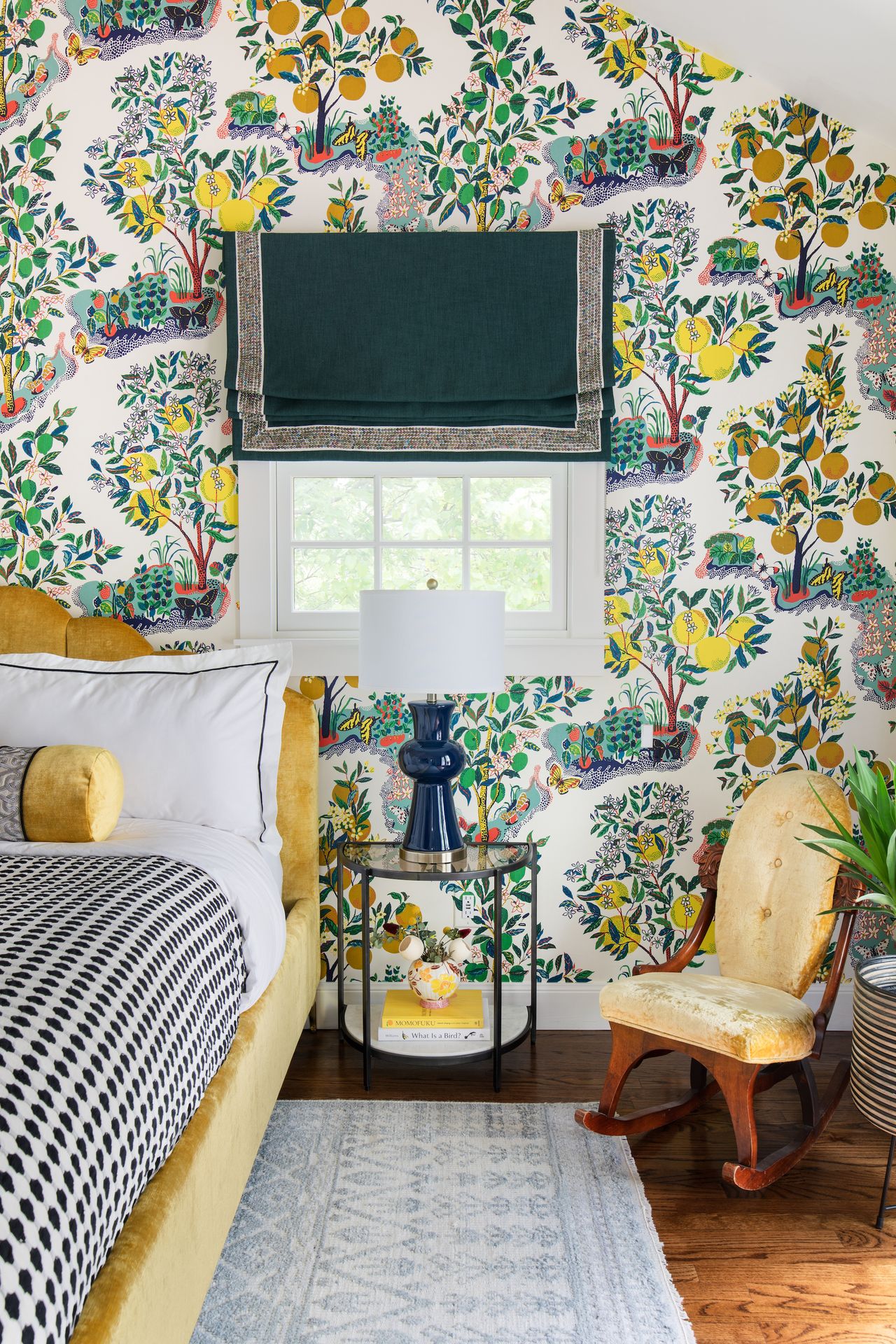 "The client gravitated towards playful patterns and fun colors, and wanted a space that was anything but cookie-cutter," says Jessica Nelson, Principal Designer of Allied ASID at Engraving Design Group. "The wallpaper was an immediate winner as it ticked all the boxes and offered a wide assortment of colors to work with in the space. We pulled the yellow from the wallpaper in the room through the custom velvet headboard, and it turned out to match the client's existing antique chair.
7. Decorate with yellow in a nursery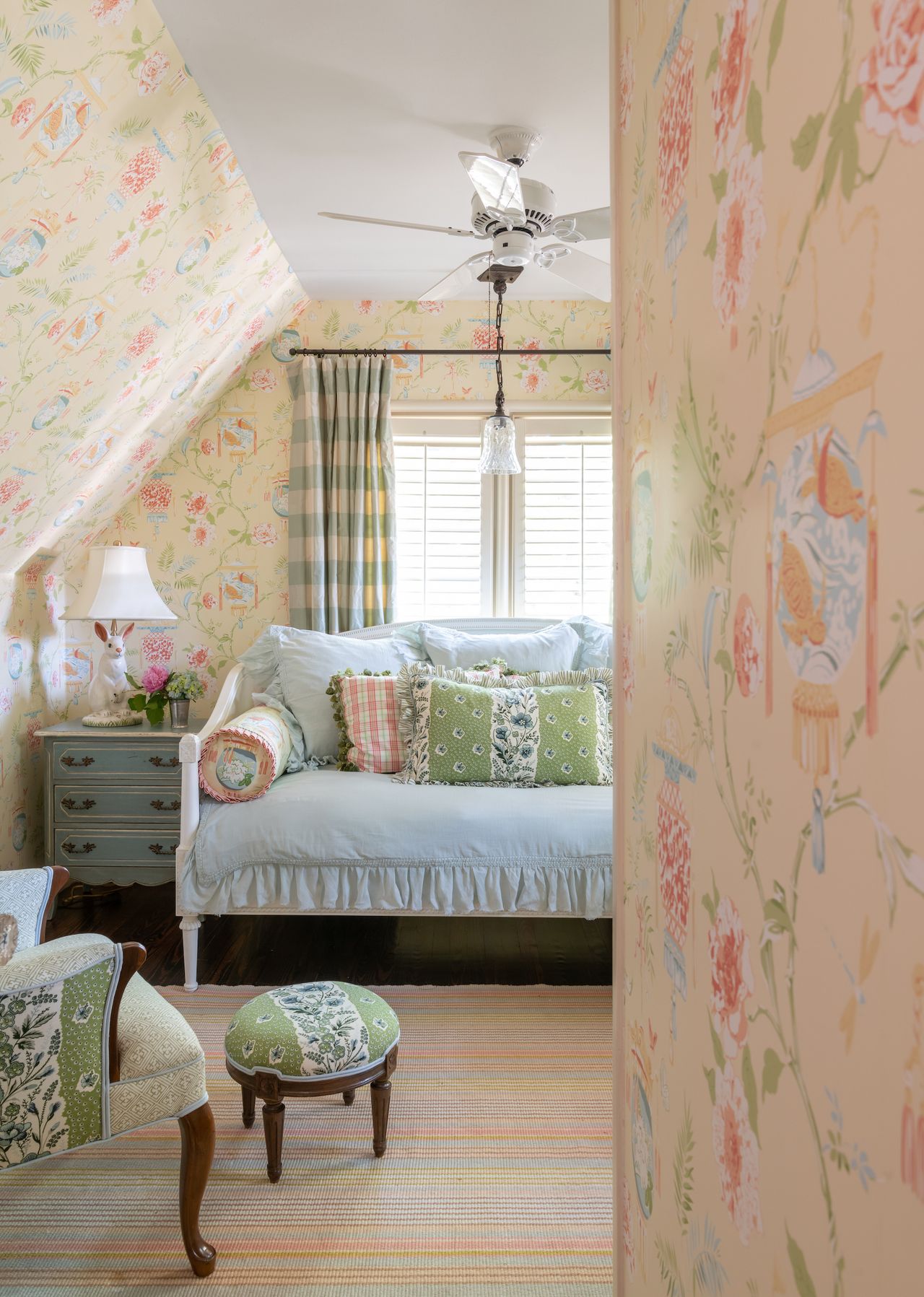 "This nursery that I designed was for my client's grandchildren," says Kim Armstrong, owner and lead designer at Interior Design Kim Armstrong. "My clients had two new grandkids and more were on the way, so they wanted to create a gender-neutral nursery for all of their younger guests."
'I chose this yellow wallpaper by Thibaut as a starting point for the whole design. Yellow is such a cheerful color, and it's a color that works well in any nursery. Some colors are timeless, and I think yellow is one of them.
8. Use a primary yellow wallpaper as a focal point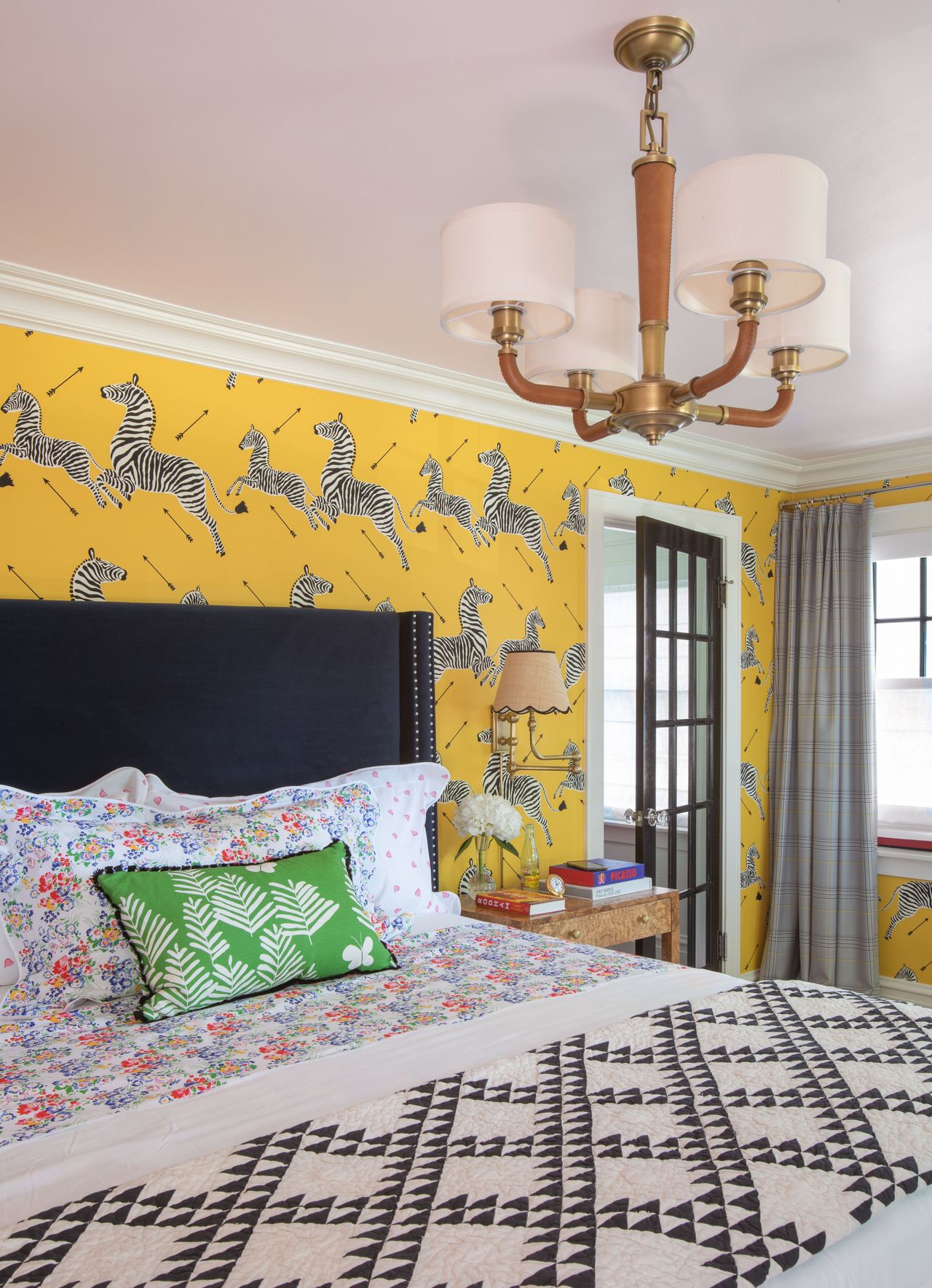 Decorating with primary colors in interior design can be done subtly and elegantly to create bright – yet understated – colorful bedroom ideas. Adding bold shimmers can be done in a sophisticated and subtle way, if the primaries are added in pops rather than stripes.
"We believe in using one primary color as the 'star' as I like to say and recommend using the other primary colors as a supporting player," says Mark Lavender, lead designer at Interiors Mr.Lavender.
"In this bedroom, we used yellow as the main 'star' and blue and red as supporting players like the headboard and pillow colors. This creates a nice balance in the room.
9. Use a variety of colors from the same palette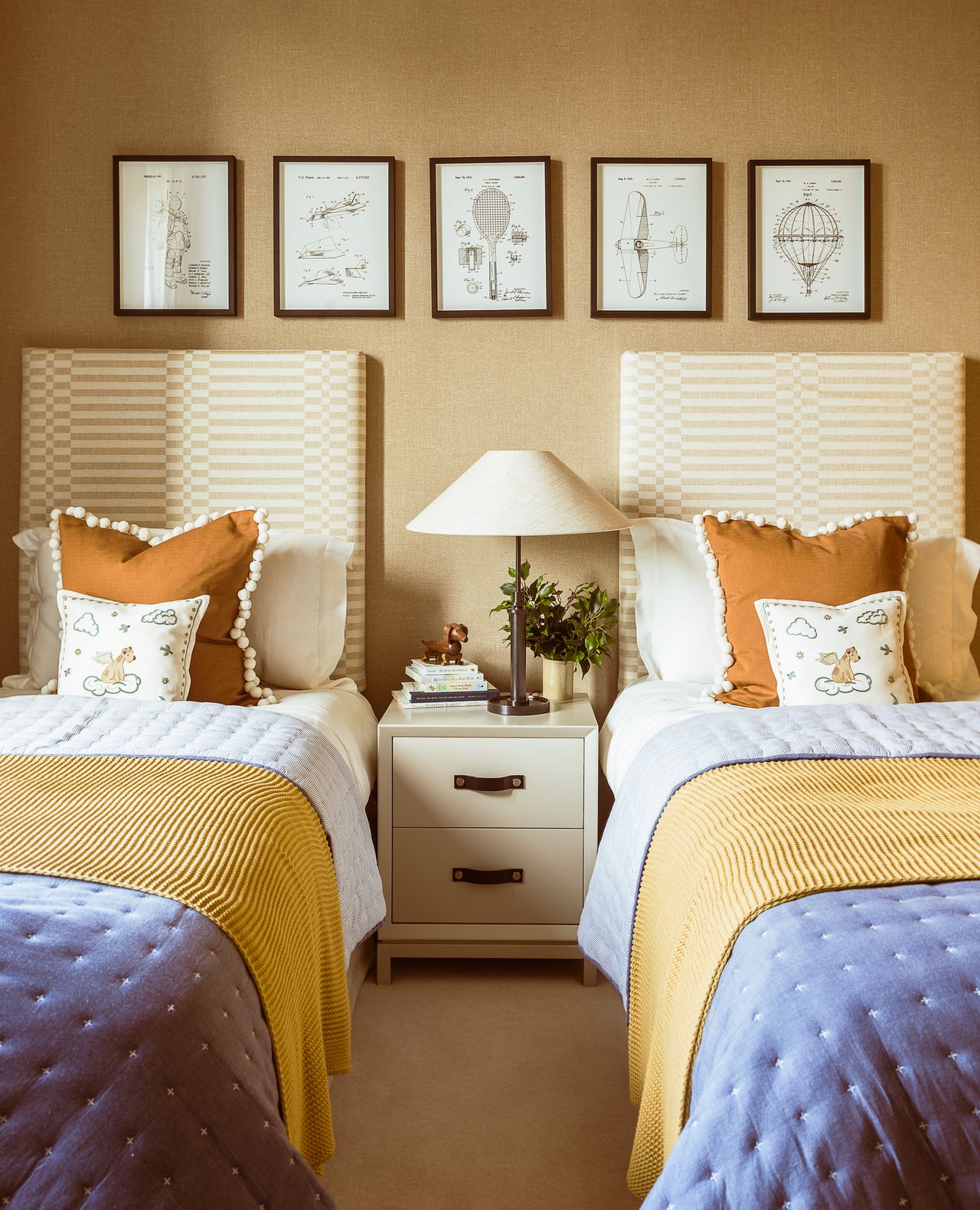 "We love using earthy colors such as greens, dark blues, ochres, chocolates and cream design schemes," says Camilla Clarke, Creative Director at Albion North. "I tend to avoid anything gray and use architectural creams or earthy greens. I've recently been drawn to yellows and pinks because they give off such a feeling of optimism.
Emma Deterding, founder of Kelling Designs, agrees: "Yellow is a great accent color for those who are less daring – use it as piping, fringe on cushions and throughout your photos. It always looks great with beiges, browns and grays, giving them a real pop. Put a yellow in a pile of anything from chairs to throw pillows and it will give it all a boost. A splash of yellow will always brighten up any project.
10. Create an eye-catching statement with a yellow awning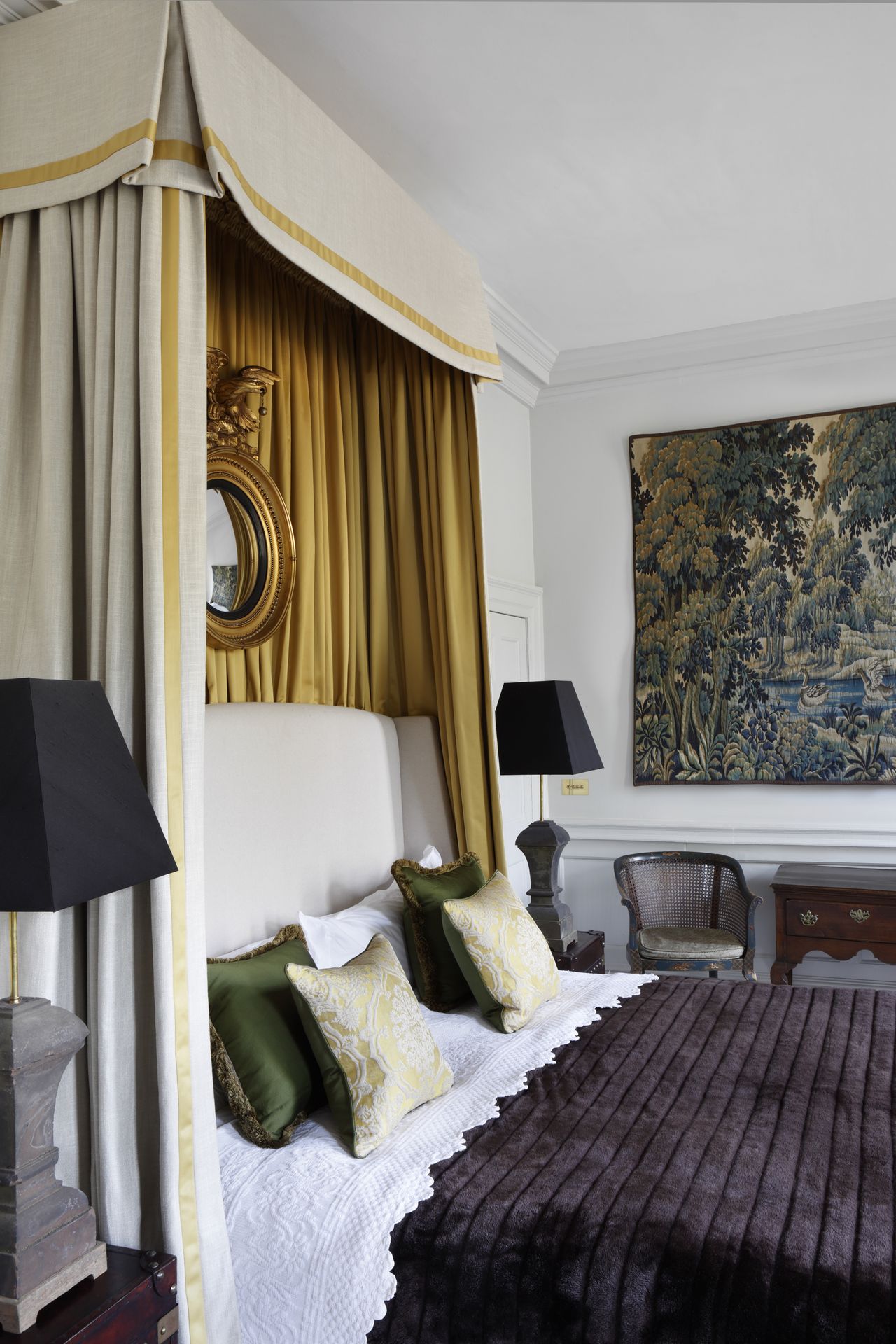 If you love green bedroom ideas but think they need a bit more warmth, or want to take the brightness of yellow bedroom ideas down a notch, then a yellow and green bedroom is the place to go. perfect compromise.
"I love green and yellow as a color combination," says Henriette von Stockhausen, Creative Director at VSP Interiors. "In my opinion, sometimes less is enough, so all elements are allowed to shine rather than compete."
Is yellow a good color for the bedroom?
Yellow is a great color for the bedroom: warm, exuberant and uplifting all at once, it's hard to go wrong with this cheerful color.
"To use yellow or ochre, you have to think of it as the 'neutral' of the scheme; like a leaf to bring out other colors, not to overpower everything else," says Susan Deliss, textile designer and interior decorator. "Avoid anything that says canary or banana and opt for something that enhances the architecture or warms up a cooler space."