A commitment to color takes trust. Assurance on every brilliant brushstroke that will realize your vision of a pleasing and totally unique look for you. Karen Clough and husband Joe's punchy palette was honed in their first home, where they tested combinations of shades to find out just how daring they dared to go. When their eldest daughter, Luna, requested a yellow bedroom, just like the ceiling in Mom's bedroom, in their new home, Karen was thrilled to spread the love for the color. The result is simply joyful and a great deal to make because Karen used leftover paint to make it. We spoke to Karen for some art tips and to find out how much Luna loved her gift of a creative mural idea.
Profile
The owners Marketing director and design blogger Karen Clough (@karenanita) and her husband, Joe, who works in IT, live here with their daughters Luna and Iris, and the cat Pebbles.
The House A five bedroom semi-Victorian built in 1886 in Urmston, Manchester.
Project cost Under £100
1. Start with a blank slate
'The bones of the house are Victorian, however the previous owner had made extensive alterations. They had gone up to the attic, where Luna's bedroom is. However, they were also childminders, so the ground floor had been extended to the side to create a playroom for the crèche. We were told that not many people would want to turn it into a house because it would be such a big job, but we figured that as long as we still have young children and are saving up to renovate, they might as well enjoy it. The rest of the house was very neutral – they had decorated to sell so everything was magnolia.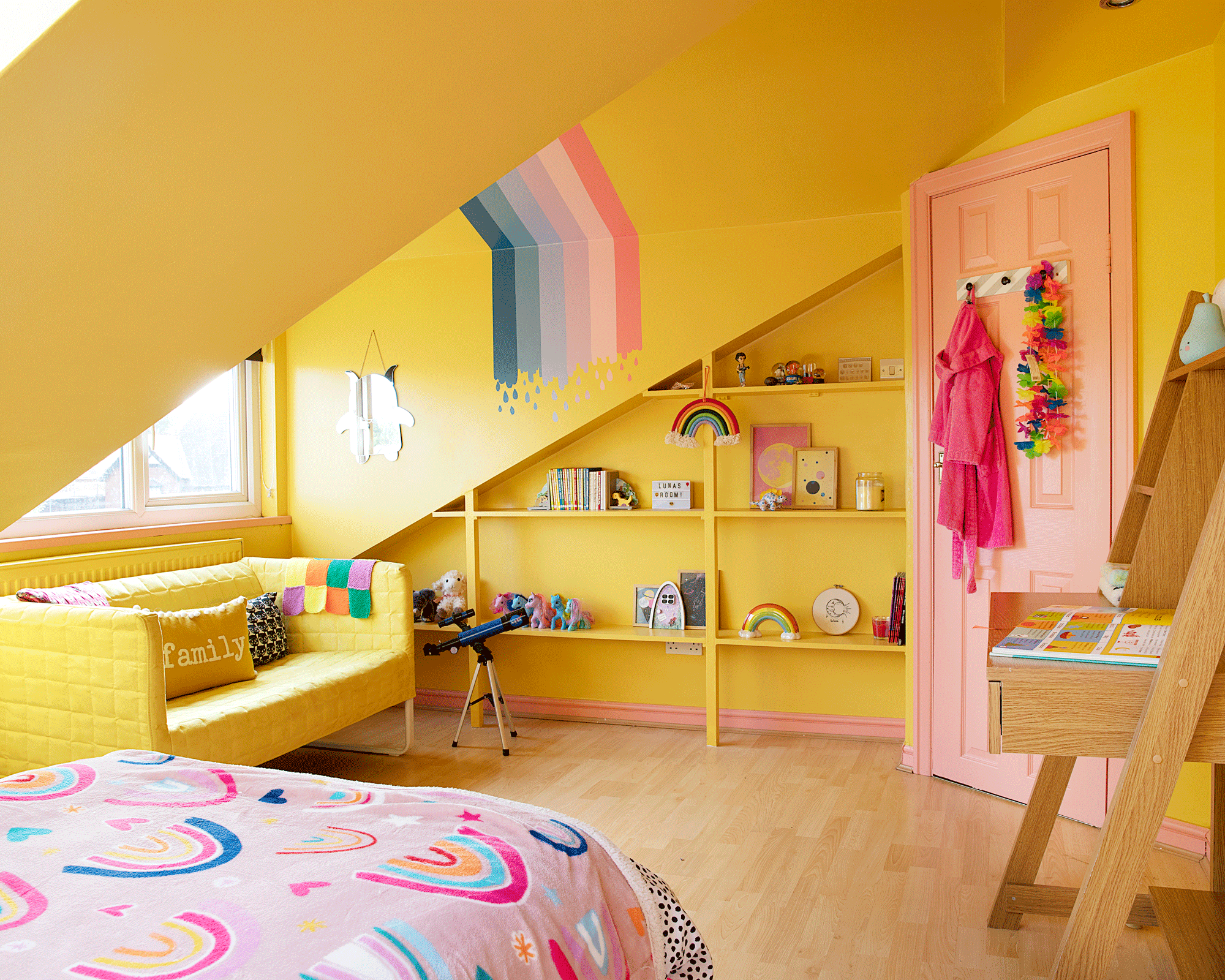 2. Plan a consistent palette
"We have always decorated quite colorfully. We often joke that our first house, which we renovated, was our experimental house. We learned what our tastes were and knew exactly what we wanted when we came here. We have our own color palette that we're comfortable with and that will continue to run throughout the house – it's mostly lots of pinks, yellows and blues.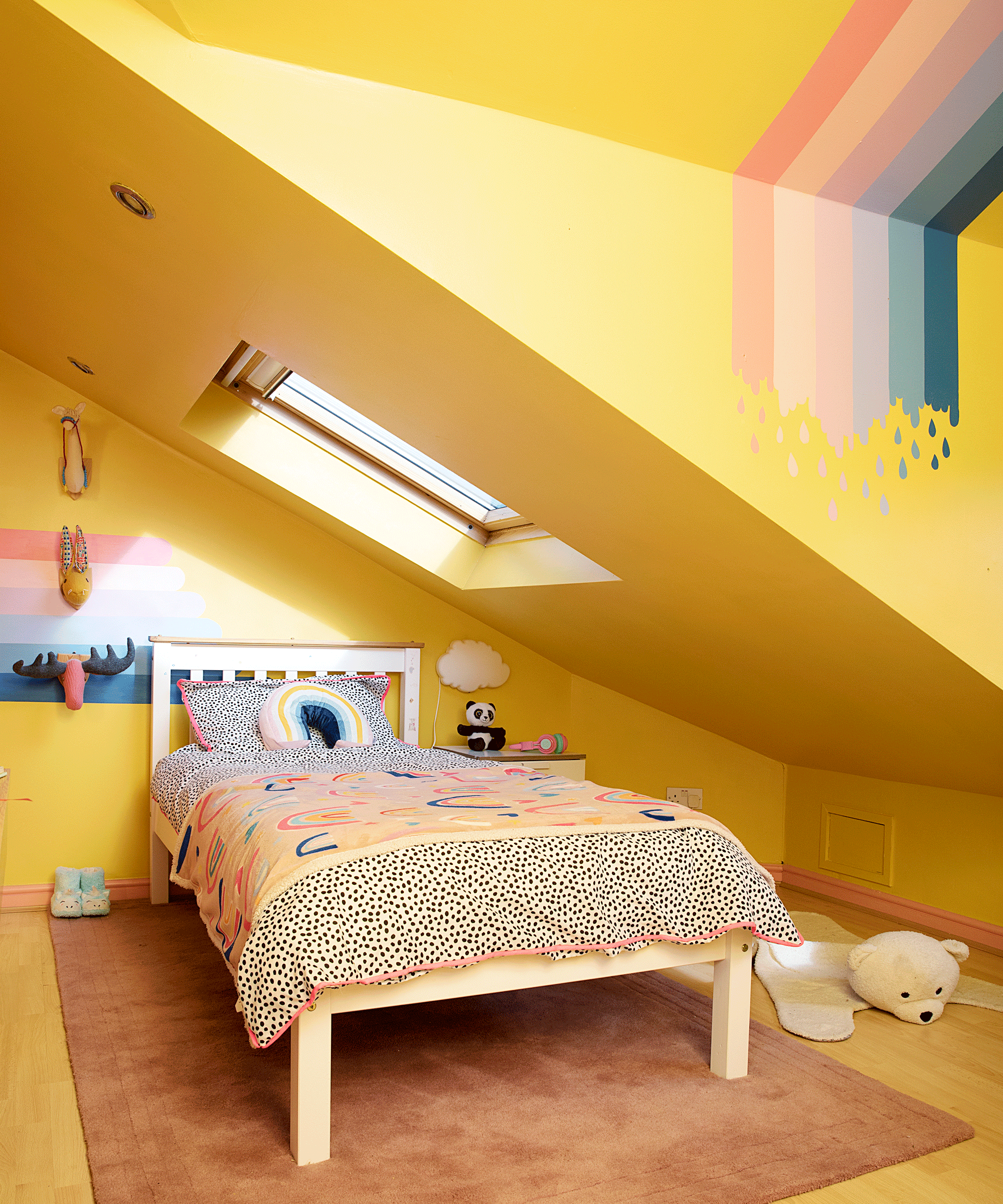 3. Consult your 'customer'
"Luna's room is in the attic. The previous owner's teenage son used it as a sort of den up there. There was damask wallpaper that was half falling off. When we moved in, we actually painted the whole room black – which was pretty drastic for a kid's room. Luna never slept and we were recommended to use blackout blinds, but we went a step further and just painted the whole room black and had multicolored furniture instead. During confinement, we renovated our bedroom and painted the ceiling yellow. When Luna turned six, she said, "Mom, I want a yellow room." Can I have it for my birthday? So that was the trigger for us to go there. We have a spare room, so we moved Luna there for about a week. Obviously she asked for yellow, and that it was rainbow themed, but that was all she knew – the rest was a birthday surprise.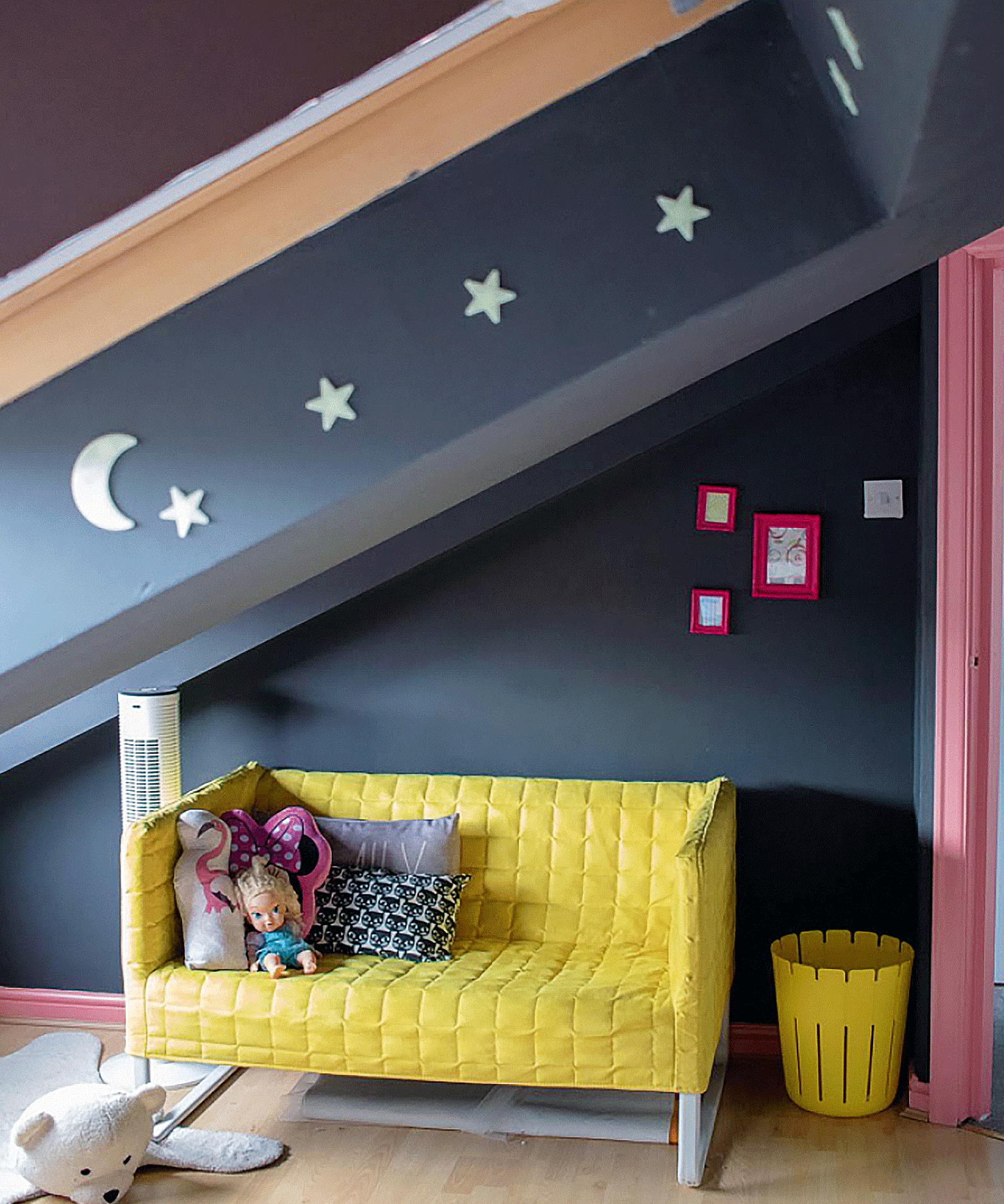 4. Work with the angles of your room
'The bedroom is under a fairly steep slope and the only part that is full height is actually a curved ceiling – I thought that would be the best place to put the rainbow. It was quite simple to do. I used masking tape to keep the lines straight, then painted a few raindrops at the end, which was a spur of the moment. Then I felt like I wanted a rainbow by the bed too, so I just added that. There's an alcove in the room that had a couch pushed into it. Luna is like any six- or seven-year-old child now with all those trinkets, little toys, and little certificates that she's really proud of and doesn't want to hide. We moved the sofa under the window and used wood to create shelves in the alcove, painting them yellow to blend in with the walls. She makes good use of this space for all her things and she has autonomy over it. She can see it when she's in bed and rearrange it if she wants.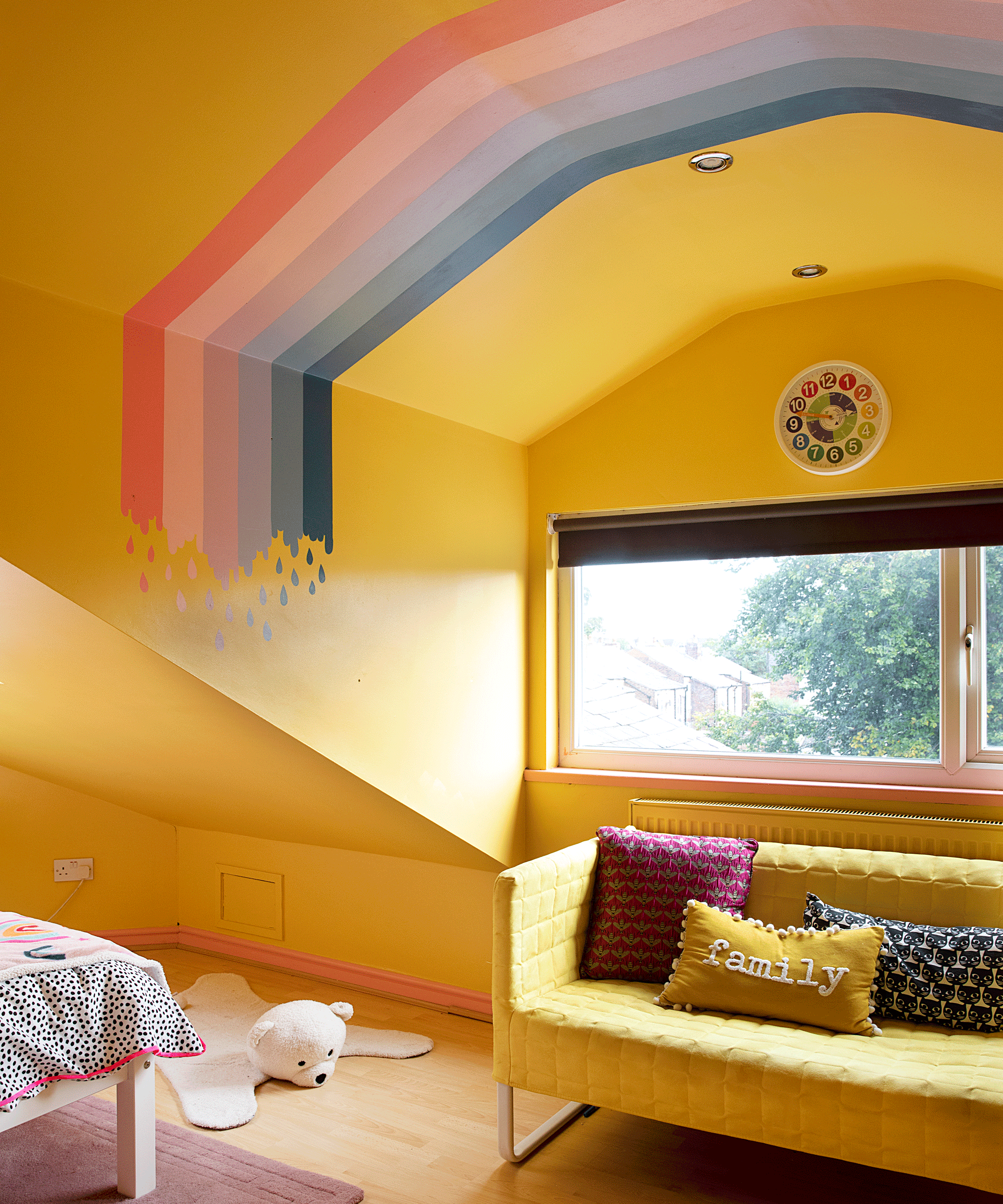 5. Recycle and reuse to save money
"The whole room cost us less than £100 to make. The yellow pain was B&Q's own range and I think it was two boxes for £24, and the wood for the shelves was under £20. The rainbow was made with tester pots that I already had. I had painted the baseboard pink when the room was dark so I had the pink paint, which I continued on the door and cabinet doors. I also used a box of Zinzer paint primer that I already had. I don't like waste, so I wanted to use what we had – that's also the advantage of using the same colors everywhere. We didn't buy new furniture – we had the sofa she had when she was a baby and we read stories to her on it. We got it from Ikea and it was leftover stock so it was really cheap but it held up really well. I had bedding that was on sale for £9.99, and some rainbow cushions from B&M and The Range. It was all new – everything else was stuff we already had.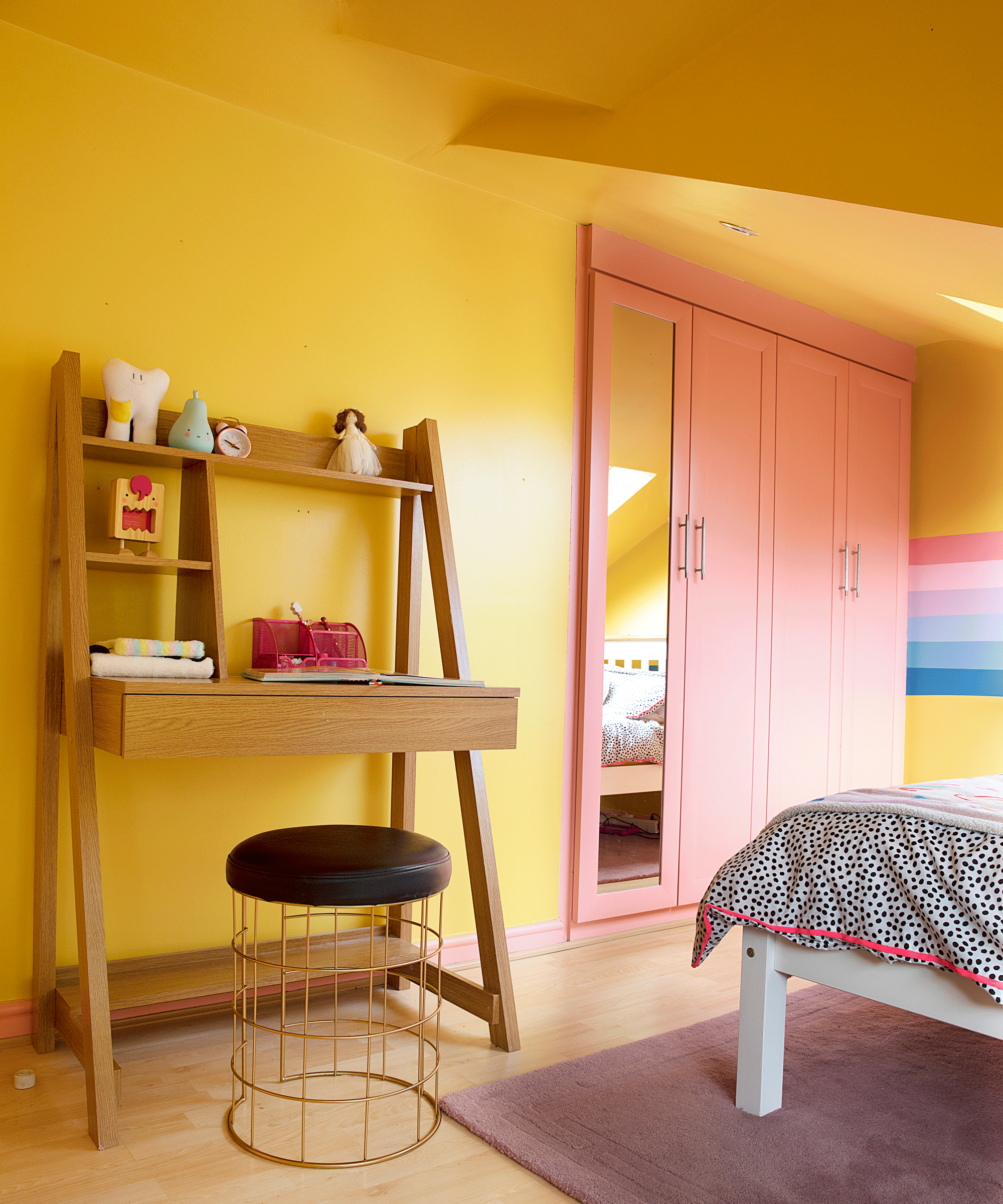 6. A personalized bedroom is the perfect gift
"Luna was thrilled with it. She had wanted to help me out, and on the last day we were painting, she came over and did some touch-ups with me. But most of it was a surprise. She absolutely loved it – she was kind of without voice at the start which is not like her she zoomed the whole family to show everyone like it was November of last year and we were in some kind of lockdown so no one could come in. She had grown too tall not to sleep so she didn't need the dark anymore. We did however install blackout blinds. There is a skylight above her bed and she loves looking at the stars – she s 's name is Luna so she likes that stuff – and she has her own telescope up there. But obviously in the summer you need something to block out the light.