'Beautiful Scars' tackles art, family trauma and identity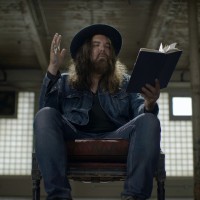 Most of us take certain essential things about ourselves for granted, but for some, even such fundamental elements of our identity as knowing where we come from can be fraught with pitfalls. Take, for example, the case of Tom Wilson, the subject of the new documentary beautiful scarswho spent decades traveling the world as a successful musician before learning late in life of his true Indigenous origins.
Based on Wilson's memoir of the same name, beautiful scars explores the Canadian musician's discovery of his Mohawk heritage and the web of family secrets he was unwittingly at the center of since childhood – including the revelation that his real mother, Janey, had been a part of his life for years without him realizes who she really was.
beautiful scars was produced by Corey Russell and Cream Films and directed by Shane Belcourt, the son of Métis rights leader Tony Belcourt. Tasked with translating a very personal story about Canada's Indigenous family, identity and community into a cohesive film, Belcourt says one of his main challenges was determining which part of the story should focus on Wilson and his mother, and what part of the story context around their story.
"We spent a lot of time in the edit trying to find the right balance," Belcourt said. real screen. "We have followed the path of Scoop of the 60sand we had archival footage, boarding schools, [et cetera]. And then we just thought, if people need to do some parallel investigation of what these things are, they can do that outside of this movie. Let's really be with Tom, and Tom and Janey's relationship, and let that be our guide. This is the thing we really want you to spend time with.
real screen spoke to Belcourt (pictured below, left), Tom Wilson (center) and Cream Films executive vice-president and producer Corey Russell (right) ahead of the world premiere of beautiful scars at Hot Docs 2022.
This interview has been edited for brevity and clarity.
How did the project start?
Corey Russell: Tom's book was given to me by a friend, and I thought the weirder than fictional story of Tom's life and how he learned the truth about his family would make a great movie. Her journey of self-discovery was fascinating and unique, especially given her profession and talent as an artist.
Shane Belcourt: It was one of those things where it's like, are we running away from the book or are we embracing the book? Are we trying to do something completely different as a standalone? But then there's all these plot points in the book that it's just hard not to want to have an audience experience [it] who has not read the book. There's a mystery that's there in the book, the first chapter, and we use it in the movie too.[:] this part where [Tom's adopted] Mama Bunny said, "There are secrets about you that I will take to the grave." And if a child hears that, you're like, "What secret?"
I think the book was the foundation for me being able to have a conversation with Tom about his life… And Tom, as you saw him in the movie and if you know him a bit in real life, he's just so present on the screen. I said, why not set up a scenario where you could read a bit of the book, you could say something in the moment, and we could use it. So we actually had him read, I think it was 12 excerpts from the book, and we only used, if I remember correctly, four… So it started with the book, we dropped the book, and then we came back to the book.
Tom, how did you feel adapting your own book into a documentary?
Tom Wilson: To be completely honest with you, it was a free fall, and it was a giant leap personally for my mom and me. It wasn't my film, except it's my story; I did not guide the direction of the film. I had a fantastic director, and an aboriginal director, who would be sensitive to the idea of ​​the loss of identity through colonialism, through the loss of culture, color, language and music. And what that situation looks like for someone outside of the Indigenous world would have been a different experience.
So Shane Belcourt, I trusted him completely. At first he came up to me when we were starting to think about shooting the movie, pre-COVID by the way, and was like, 'Okay, that's great, I'm going to do a bunch of interviews with you , it would be great to interview you with your mother…" And I said, "My mother will not be interviewed, we will not do this. You are going to have to have me. And throughout the process, while my mom was starting to get some info on the movie, I was driving her to the grocery store and I was like, 'Hey, you know, they'd really like to have you in this movie they're making about the book', and she decided she would.
And so the big reveal, the big move in there, is that my mom and I were able to speak more freely on camera, and more freely to each other, than we have in 62 years. .we really made a lot of progress with each other that otherwise we might not have been able to achieve. We shared information that we might not have shared among ourselves. It was a liberating experience for both of us.
What kinds of challenges did you face during the production process, pandemic-related or otherwise?
CR: It was a challenge for us as Tom is spending a lot of time looking after his mother during the pandemic, so for her safety he was careful not to bring any extra people. As for the crew, luckily Cream has a strong production roster and honed COVID protocols, all of which were enforced on this shoot.
The film deals with very personal issues related to Tom's family, but he is also about a successful entertainer who is a celebrity in many ways. Shane, how much effort did you put into balancing those aspects, to give context to Tom's life and career within a larger story? Because it's not a musical documentary, but rather a documentary about someone who happens to be a musician.
SB: It's exactly that. To be honest, it was a really difficult balance[:] is it a rock documentary about a guy who has some kind of crazy life story? Or, as you just said, the reversal of that? And to be honest, we did a cut that was a rock documentary, with a little side story like, "Crazy family, huh?" We tried it, the first editor Marc Ricciardelli and myself, and we put together a montage, we were very excited at that time. We introduced him to Tom, [and] to his credit, he was like, "Shane, this is a departure from what we said we were going to do, which wasn't a rock doc." […] So that was great [that] we had a chance to feel what it would be like to have a rock doc, and then we all thought, no, that's not what we want out of it. There is a greater emotional impact to [be had here].
What was your approach to making a film that touches on generational trauma? How much effort has gone into making everyone feel safe and cared for in this environment?
SB: Growing up in an Indigenous household, being around Indigenous artists and storytellers and the politics of Indigenous life all my life, it just gives you a kind of understanding of where [Tom's] where and where his family is from – there's a lot of generous trust, as you'd expect from any group of people who come from similar backgrounds. So [when it came to getting Janey involved]which opens the door to the possibility of a conversation: "Hey, I'm doing this documentary, if you want to be filmed, Janey, I would like you to do this."
The things my dad did in his life as an Indigenous rights leader give people some kind of leeway [in me]. It is the weight of the family name, doing good by people. I'm sure a lot of people feel that way, as filmmakers, but it's something that's really close to my heart, the way I grew up. So I think that opens the door.
Being an artist yourself, Tom, how was the process of working with Shane and the rest of the team on something that is still so personal to you, your family and your mother?
TW: I was trying to protect my mother, really, from the process. And Shane was someone who was brought in because he understands, you know. His father was basically there, swinging every day in Ottawa for Métis rights. He was a guy who understands the struggle, the struggle against the residues of colonialism and the colonialism that is still being played out in this country. So without overemphasizing it in the movie, it tells this story [of] the effects of colonialism on two people, and also on my children, on my family, [and] how is it going, man.
Just the idea of ​​not having [an] identity and not knowing who you are – the thought of an 18 year old girl in a hospital having a baby, and the baby being taken from her immediately, and her being injected and knocked unconscious. That's part of what I'm talking about is that I've never heard that story. Little did I know that Janey and I didn't have this moment as mother and child after I was born. I was taken away, she looked at a clock and saw it was five or ten past eight and thought I was born at eight, then she was knocked out. She woke up a day later, walking the halls of St. Joseph's Hospital in Hamilton, staring into the nursery wondering what baby she had, not knowing if I was a boy or a girl.
So what effect does this have on a woman all her life, living with this experience from the age of 18? To be manipulated in this way, and not to be considered or considered and respected? It's a story that still breaks my heart – it's a story I'm writing now for my second book.
Was there anything in particular that you hoped audiences would take away from the film?
TW: The film is an extension of the book. It tells the story now on the big screen and on the TV screen. My work of the past eight years has been redefined. I paint now, I create art now to honor Mohawk culture, to honor this world… I infuse my identity into my work, really. And this is the first time I've said that — I just realized what I'm doing. I infuse my identity into my creative work so that I can open the door of possibility for other people to tell their stories, or for people to understand the Indigenous world here in North America and Canada, in my way. I can only tell one story, and I will continue to tell it.