Art in the Garden Festival celebrates 20 years at the Ballard P-Patch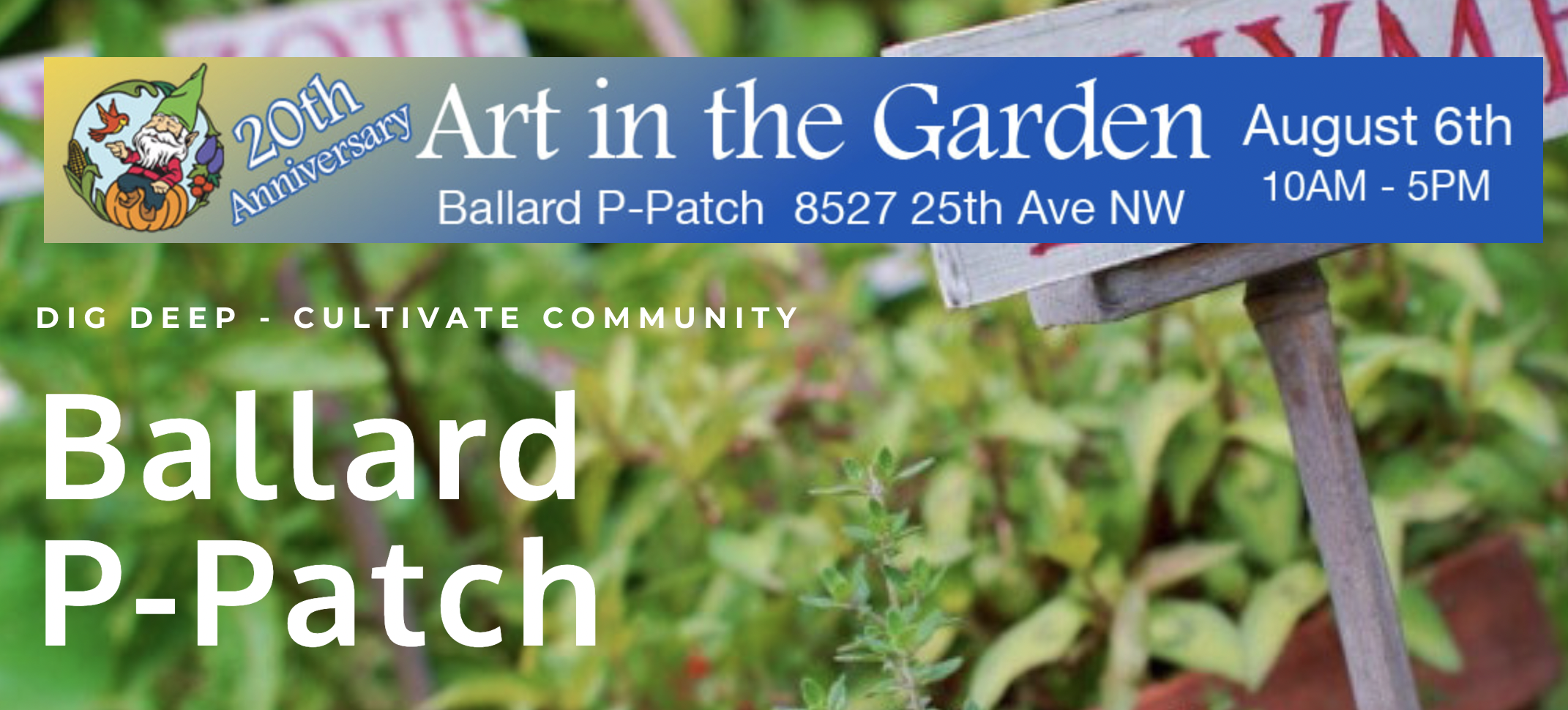 Saturday, August 6 marks the 20th Annual Garden Art Festival at Ballard P-Patch, 10 a.m. to 5 p.m. at Garden: 8527 25th Ave. NW. Free entry.
More than a dozen local artists will have their works on display and available for purchase. Plus, all the traditional favorites will be right at your fingertips: beer garden, ice cream parlor, kids' activities – plus the bake sale, art auction, handmade quilt raffle, hand and fundraising for wine.
Live music is back this year! There will be Scandinavian, Cajun, Country, Original – something for everyone – running all day. See the lineup and a schedule on the Ballard P-Patch website: https://www.ballardppatch.org/musicians-page1.html.
As part of its community-focused mission, Ballard P-Patch will also run a hygiene campaign for Ballard Food Bank at its stand. Festival-goers are encouraged to bring donations of toothpaste, soap, laundry detergent, etc. Garden volunteers are eager to collect these items and deliver them to the food bank. Check Ballard Food Bank's Amazon Wish List for items needed: https://amzn.to/3BEBJc9.
Nature, plants and community figure prominently among the themes of this small neighborhood festival. Artist booths showcase homewares, prints, jewelry, and decorative items, all inspired by the natural world. Fresh fruit pies, homemade by garden volunteers, are always popular. And don't forget the garden itself: wander the paths and enjoy the flowers and abundance – all grown with sustainable and organic practices.
The annual festival is just one of the ways Ballard P-Patch contributes to a sense of community in its North Ballard neighborhood. Other examples include the Giving Garden program, where volunteers come together weekly to tend and harvest crops for the Ballard Food Bank, as well as maintaining the space as an emergency center for the neighborhood – a place of assembly and shelter in the event of a natural disaster.
Ballard P-Patch is grateful for the support of many local businesses that hosted Art in the Garden this year: Maritime Pacific Brewing Co., Picolinos Ristorante, Tall Grass Bakery, Town & Country Markets, Verity Credit Union, Windermere Real Estate, Swanson's Nursery , Fred Meyer, Trader Joe's, Walt's Organic Fertilizer Co., US Foods Chef'Store, Oberto Specialty Meats, QFC and Majestic Bay Theatres.
For the latest information on Art in the Garden, visit https://www.ballardppatch.org/