10 tips for decorating your dinner table beautifully every day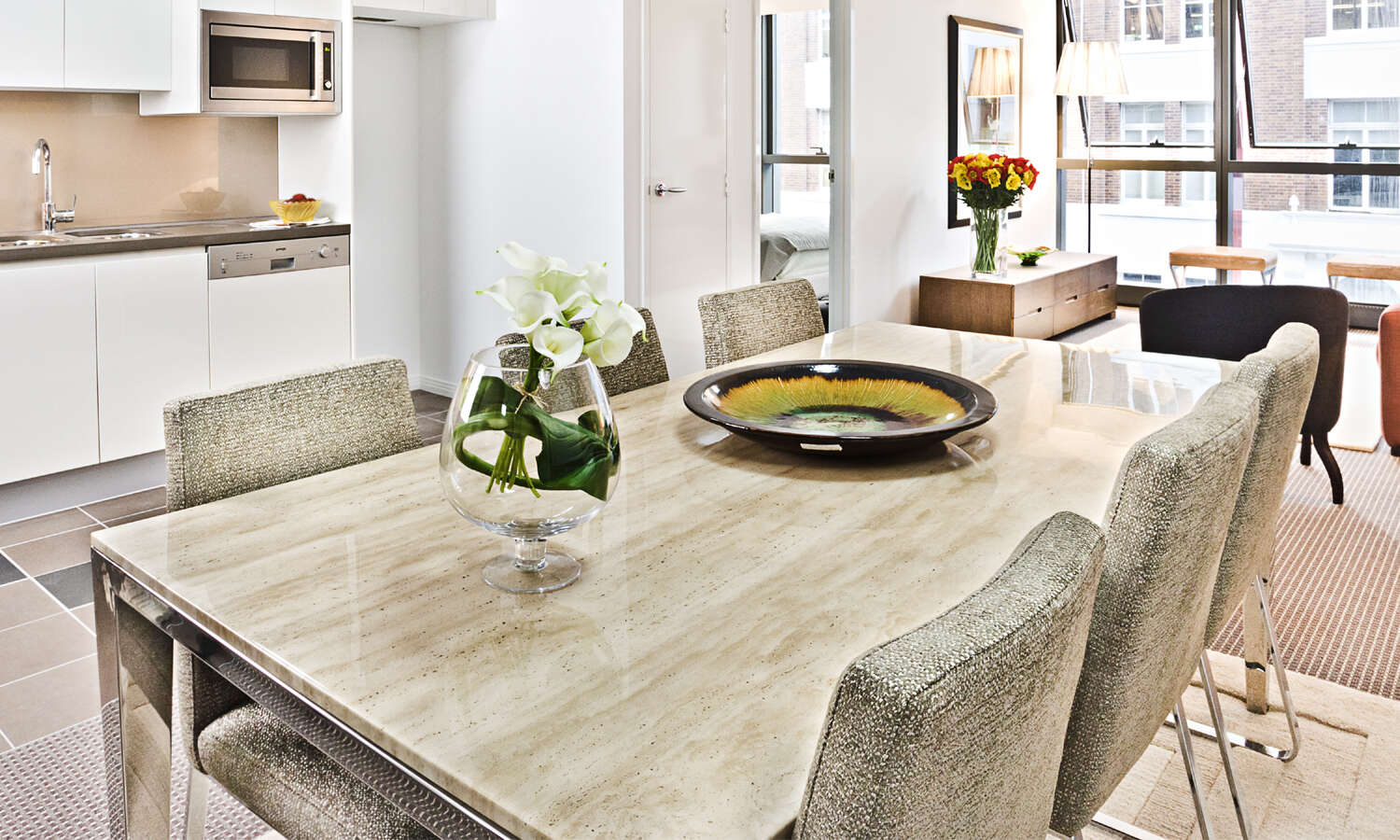 At that time, a dining table was just a piece of furniture for placing containers and enjoying your meals. Apart from the placement of a random flower vase or the laying of a worn tablecloth, no importance was given to its decoration. Today the scene has changed! The way you decorate a dining table is indicative of your personality, tastes, and stature. In addition to conveying subtle messages about you to your guests, the dining table decor also enhances the overall aesthetic of your home.
In this article, we'll show you how to decorate a dining table using 10 ideas. From selecting the right accessories to their proper arrangement, you will learn a lot of interesting things from this piece.
How to decorate a dining table at home?
Check out these 10 different ideas that will inspire you to decorate your dining table:
1. Declutter the table:
If you're used to stacking things up on the dining table, now is the time to put an end to it! The first step in decorating a dining table is to declutter. Just remove unnecessary items on the table to give it a clean image. For homes with smaller dining rooms, minimalism is the key to beauty. So, use as little as possible on and around the table to maintain the elegance.
2. Choose a good fabric for the chairs:
One of the easiest ways to start decorating a dining table is to cover the chairs with a good quality fabric. Inexpensive fabrics not only spoil the overall look of your table, but also damage the materials of the interior cushion. Interior experts recommend choosing fabrics in a color that matches the rest of the room's theme. You can choose the same coating or a contrasting color coating and add prints for a vibrant look. In the case of all-wood chairs, you can use ready-made dining table cushion covers, which are available in different designs and colors.
3. Hang a chandelier:
If you want to enhance the look of your dining room with minimal effort, then invest in a chandelier! A pendant light above the dining table can create a statement look while also setting the mood for the room. You can choose from a variety of designs ranging from modern to minimalist, vintage to avant-garde, depending on the design scheme of the room. Make sure you go for the right size to prevent the chandelier from dominating the entire space. Also, remember that the luminaire should be stylish even in daylight.
4. Add fresh flowers or plants:
One of the best ways to spruce up the look of your dining table is to add a floral centerpiece. Placing a delicate vase with colorful flowers can instantly highlight the table and catch everyone's attention. The use of flowers and plants like succulents adds freshness and natural beauty to the surroundings. You can also try dried flowers instead of fresh flowers to bring a vintage look. Our tip: try to avoid plastic or artificial flowers and go as natural as possible to achieve a flawless look.
5. Place candles:
How about recreating a romantic candle light dinner at home? You can do this in a jiffy by placing a beautiful candle centerpiece. Candles add a whimsical touch to your dining table and transport you to a different world. Depending on the size of the table, you can choose from many varieties like tall sticks, glass candles, container candles, etc. Explore the different styles of candle holders to add a little more drama to your table.
6. Transform the background:

Did you go out of your way to decorate the dining table, but still feel like something is missing? Try to tackle the wall behind! Using an unexpected color or a beautiful wallpaper on the back wall can instantly transform the look of your dining room. Using geometric prints, flowers or embossed wallpapers in baroque patterns can make your room look exciting and lively, while also enhancing the look of your dining table. Extra tip – Choose wall hangings or accessories that match the theme of the background as a special touch.
7. Lay a nice tablecloth:
One of the best ways to decorate a dining table on a daily basis is to lay a nice tablecloth. A brightly colored tablecloth can cover up flaws in the table and instantly make it a beautiful piece of furniture. You can opt for embellishments like French lace fabrics, crochet work fabrics or even Indian ethnic prints to spruce up the space. If you think spills will be a problem, lay a sheet of clear plastic over it or opt for waterproof tablecloths for easy maintenance.
8. Use trendy coasters and rugs:
Coasters and rugs provide many benefits to your dining table. They prevent glass stains and accidental spills while protecting the surface of tables from scratches. Additionally, choosing trendy coasters and rugs can add a decorative look to your table and create lasting impressions on your guests. For a more natural look, choose durable materials like jute, cork or wood. Make sure you buy the right size and number for the number of seats on your dining table.
9. Choose a table runner:
Even a sad looking dining table can look like a designer piece with the help of a table runner. A nice table runner can add color and texture to your table and serve as a table mat. You can use a runner as a stand-alone piece or with a tablecloth for extra decoration. Pick an eye-catching fabric that works as a centerpiece on the table and make sure it's durable enough to withstand heat.
10. Arrange the towels and cutlery:

Wondering how to decorate a dining table for a buffet or a dinner party? First, decide on the theme of the decor like Christmas, Thanksgiving, Diwali, etc. Now mix and match solid colors with prints to set the mood for the event. Choose a beautiful tableware that pairs well with the type of cuisine you plan to serve to guests. Arrange everything nicely so that the table is beautiful. Finally, create a focal point by using a centerpiece or candles to recreate a restaurant setting.
These are the 10 best ideas that guide you on how to decorate a dining table at home? The secret to a perfect dining table is to experiment with several items and see what works for your room. Also, get into the habit of cleaning the table every day to increase its life and improve its appearance.